I started out pretty simply. I ran out at dawn, found several creepers and killed them with arrows. It takes about 5 arrows to kill them, so the "sling" sound was pretty fulfilling, but it was not enough for me. They weren't suffering.
For something filled with gunpowder, these guys sure do take a long time to burn. Which is actually fine with me, they squeal while they burn to death. Just light the ground in front of them on fire and they run strait through. Ah. That felt good.
But was it really enough? No.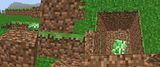 This guy fell in a hole, and was then helpless. He couldn't escape, just hop there, hoping I would get close enough for him to explode... but I had other plans. I covered the hole with wood... nice flammable wood. Then I stacked gravel, nice heavy gravel on top. Oh? You didn't know that gravel falls as if held down by gravity? Neither did he.
It would be bad for him if somehow that wood was to disappear and allow all that rock come crashing down on his head.
"I don't deserve this." he said to me.
"Deserve ain't got nothin' to do with it" I said, as I lit the wood.
I then remembered I get extra rewarded for killing Creepers.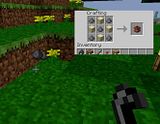 Poetic justice.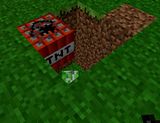 "I'll see you in hell" this one told me.
"Yeah... I reckon so" then I lit the fuse.
EDIT
----
To anyone that is new to this, this is season 2, titled: The River. Season 1 was titled: The Bay. You have to dig back a few posts to find The Bay as this is my gamer blog and I have some non-minecraft stuff going on.