Season 3 Styxx
Episode 7 "River of Gold"
I came back down from the Cistern because the pathway continued near the steps I had created. It wasn't long before I heard the sounds of zombies and water came from below. I waited and waited for the zombies to come, but they didn't, so I edged my way and found that the water was blocking them.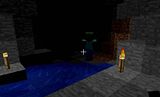 Afterward I explored and found the source of the water, but it went way back and WAAAY up. I tried to find the top, but soon it became flush and strait, and I didn't want to ruin such a perfect waterfall. So it was time to head back up and make some ladders.
Upon reaching the top, I found out why steel armor is so useful. I had the false assumption that sun = safe, and as soon as I got on the surface I heard a hissssss. Over the top of the wall I could see this hopping up to get a look at me.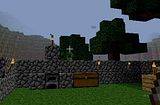 What was even more stupid was to think that was the only one around. I soon got a stereo chorus of dynamite to both ears... I have no idea how I survived.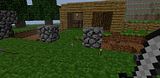 I made my ladders and I went up the waterfall. I found an open cavern quite a bit above the source, and while I was there I heard a cow doing his cow thing and going "mooo". I decided to look around and near the ceiling was some dirt, I opened up the dirt and found myself looking at my tower.
Another exit, but far too inconvenient to ever actually use. I went back down the waterfall to find many skeletons down there, but also a lavafall coming down from the ceiling.
On one side was some water, so I decided to take a ride down it. It deposited me into a room with yet another waterfall, and I was feeling adventurous so I hopped in and rode that one far far down into the earth.
At the bottom I found a room, and all around the room the floors sparkled. This water must go strait through a gold vein or something. I went home a richer man.