Season 3: Styxx
Episode 5: The Cistern
The last time I left my mines, I realized how much of a hazard it is for me to get to the surface quickly. Also, I haven't built some stuff in a good long while, so I decided to organize the upper parts of my mine a bit.
I started out by making the natural steps near the top a little less natural. I added steps that do not require me to jump while going up them. I did not have to widen the cave all that much as the natural formation was rather nice to begin with.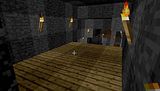 Next I chose a spot to make a platform right before the really large hole in the ground.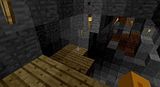 I made a series of these platforms, and even cut a new pathway to the alternate exit. What I realized though is that in my speed tests on getting out, that the platforms will still dangerous, perhaps even more so as you can see in this next picture. I'd fall and not stop till the very bottom.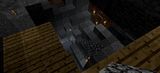 So I went back up and I constructed some fences, and I bordered my platforms.
Part 2: Let's head back down
I was mining a bit of redstone I had found in a little hollow, when I came across some lava.
The more I cleared, the larger and larger the lava lake seemed to be.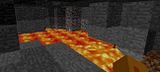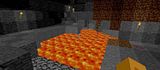 At the end of this lava lake, I came to an area that seemed to split. I could go up, or I could go forward. I decided to fashion some crude steps and head upward to see what I could find.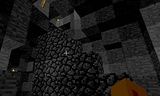 The rocks up here were very loose, much of it was gravel. I hugged the sides and eventually made my way to an opening.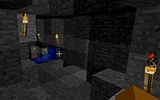 This room was absolutely full of water. The more torches I placed, the more water I saw. There was no less than 4 waterfalls in this room... and a a zombie.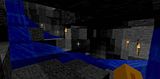 The zombie chased me all around the room, I couldn't get to a good spot to stop and defend myself. Sometimes I swear a zombie's arms are twice as long as they seem to be. I got knocked down in the water... and and got swept away. Then... while in the water I fell, 30 or so feet into another body of water. What I had found is that all the water in the top collected and drained in a large waterfall into a 2nd room below that had even more water falls!
I named this room the cistern, and after watching the zombie fall after me and drown, I decided to head home and dry my clothing.