Welcome to Season 3.
Minecraft: Styxx Episode 1 "Glitters"
Short recap: I was creating The River connecting The Bay to a larger body of water, so it would serve as a sort of highway from my spawn point to other parts of the world. I created a tower to serve as my base of operations where I had been working. While digging a well, I broke through the land and found an underground cave system that I am currently exploring.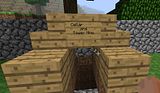 Obviously I am in a much more dangerous environment than I had been before. The Bay was strangely situated to where monsters rarely roamed around it. The land near the tower was much much more dangerous. I decided I needed to create a good supply of food to support my exploration and my spelunking.
The first step was to... add steps. Going in and out of the well was haphazard, and I frequently went outside to find myself confronted with enemies. My walls defended me well against most things, but spiders can still climb walls and skeletons can still fire arrows. I wanted an easy way to retreat, to get in and out, to access my well. So I remade the entrance and installed stone steps.
Next just off the step side I made a room that would be the cellar. I lined the walls with nice wood panels, but I kept the floor stone so that it would stay more chill. It has 2 double chests for holding animal harvested items, and a single chest for emergency storage of whatever.

With that out of the way, I suited up and prepared to go back down the well. I went the same route as before and got to the deep, lightless hole I had been to before. As I started to make my way down, I soon found a pathway off to its side. A diversion that I could not resist. I made this .gif to try and give a sense of where the path was...
So off I went to the side, the corridor continued well out of sight. I explored it fully, and found disappointment that it lead to a dead end. I got a bit of coal, but not much else.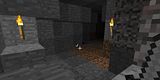 On my way out of dead ends, I generally leave only a minimal bit of light, and I typically seal the area with man made materials so that if I had ever come back to the same area through some other means, I know I had been there. I was widening the wall a bit so it would not block light, when I cracked open this: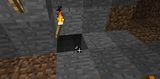 It was not far from the entrance to this little diversion, so I decided to widen the hole and explore.
Down further into the depths I went, cautiously. A torch every few steps so I could make sure I did not fall through some other deep crack in the earth. A wall of coal came in to view, but just as I had started to collect it, I saw another hole in the wall... and in that darkness, I spotted some sparkle.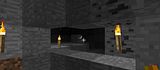 I got excited, I needed more steel because a glitch had ruined my already sparse supply. With reckless abandon I cracked open the wall and went for the iron, swinging my pickaxe wildly. I payed for this abandon, as suddenly I heard the familiar and extremely scary sound of strings going "fwaaaang" as arrows suddenly darted at me.
To be continued in Minecraft: Styxx Episode 2 "Horrors Below"