Fort Lookout started out rather simple. One large room, and then the cave front with the glass facing. I had hoped that perhaps furniture would be added soon(heh) and did not really plan any kind of creature comforts. I had one real true need at the time, safe storage and production facilities.
The back room was just a place to put a double chest, a crafting bench, and a furnace. I guess I did not even attempt anything fancy until my furnace/stove at the treehouse. I did not need much storage yet because when the Fort had been finished waaaay back when, I still had not truly mined, and certainly had not farmed.
The area I now call the Observation Deck was really only contoured to match the cave. No function to it except to make sure I could get some torches to act as a guiding beacon.
My storage system at the Tower was a bit better. I separated the storage according to the "building" it was in. The shed had tools and landscaping, the cellar had cured meats and stuff needing to be cold, the furnace area had ores. It was Sugarland where my favorite categorization was established, so Sugarland stood for my template for the Fort Lookout refurbish.
Taking further inspiration from Sugarland, I went up to the transition area between Observation Deck and the storage room. There I created a stove based on the grill I had outside at Sugarland. I added a "chimney" block above it for the heat to go. Half blocks were recently added, so I took the half blocks of wood plank and made some cabinets beside the stove, I'm rather happy about them, I felt creative.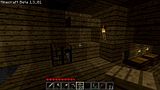 Still on my shelving kick, I made a work bench and some overhead shelving for the space. I am now super happy about Fort Lookout. I have bunks, and officer's quarters, some furniture, extensive storage, and now a stove and crafting area to be proud of. It went from my most primitive dwelling to the one dwelling that contains all current "comforts" in Minecraft. Beds, bookshelves, paintings, carpeting, shelves, all the nice stuff.
Next up! Episode 6. I need to secure the area around Fort Lookout!