I arrived into Fort Lookout through the back door... the only real entrance I guess. I still like that there is only one real entrance. Anyway, I see that I had NO plan for function for this place. Zero.
I have looked out into this area many times, waiting for dawn before I had a watch. I decided I needed a chair here to sit. Once it was there, I realized it had this kind of Star Trek captain's chair about it. I like that. I imagine if someone was on guard duty they would need a place to sit and watch out over the entire bay for boats and such.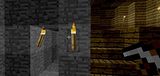 There was always a wall here of natural rock that I thought would make the place look more.. natural form afar. Minecraft just does not support that kind of detail because of the glass graphic, so I decided this would be the start of the new area.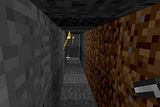 I was not sure that the area here was solid. I had heard creatures before and did not know if it was from the roof or a hidden cave somewhere around Fort Lookout. Luckily it went solidly through.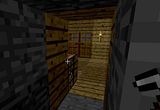 Just as I planned. Turns out that the observation deck is on the level with the back storage room. This hallway leads directly to it, connecting the observation platform.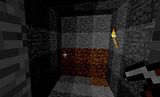 Directly from the back room I hollowed out the area next to the chest. It too was solid, something of a surprise considering this whole Fort was built inside natural hollow cavern.
I widened it a bit and then proceeded to cover it all with wood so that it looked classy and finished. I kind of like the finished look of this former cave, so I am going to keep it where I am able.
Here's some TMI for you... I am a "HGTV Home of the Year" sweepstakes junky. Whenever they have it, I enter daily like a mad man thinking I even have a chance. Well this year's home featured a ski lodge, something I "planned" to turn into a movie theater when I won(yea right). Well I like the idea of bunk rooms in my Forts now.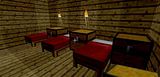 Fin
Now to the next room... but you'll have to wait till next post!