My sugar cane farm is real simple. When I go along the rows and cut the cane, it all falls into the water. Simple manipulation of the water makes it a sort of conveyor belt bringing all the cane into one spot by flowing on the water.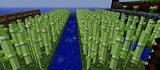 My first use for sugar cane has nothing to do with sugar. My original intent for propagating cane along the river was to make my homes a bit more classier. Cane can be processed into paper. Paper can be collected into books, and books can be assembled into bookshelves.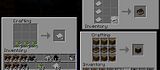 Right now they are purely decorative, but they do look nice. I put some along the wall next to my chair at Sugarland. Now I can sit and read with a nice view on either side of me.
Next up is that giant block of about 90% dirt that is next for clearing. It is a very nice shape, so I took this time to really think about my explosives usage here. I studied up on how deep and far an explosive can go in dirt, and how it generally acts around normal stone. I a few holes down and set the explosives...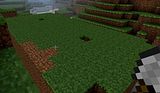 Two should get the job done enough. The outsides should stay intact, keeping any of the explosion from damaging the surroundings. The floor also should be fine, leaving almost no fill in work for me to do. That is my guess anyway.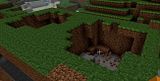 The explosion was a little smaller than I planned between them, but the sides do look very very nice. From up here I think I did fine on the floor as well. I went down to get a better view.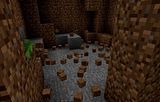 What is left is really not that bad to clean up, and I think I saved myself considerable time and annoyance as compared to going line to line, row to row clearing this out.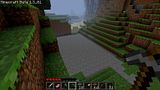 I am absolutely proud of my job on what will be the river bottom. There was a couple of stones I had to clear, but NONE of the explosion went below the river level. You can see, that is all natural stone, no dirt or cobblestone filler for any accidental holes.
Up ahead is the final stretch. The inspiration for the route I took with this river, and a large part of what inspired this project in the first place. The ancient riverbed.