I feel so behind when it comes to content in Minecraft. The Nether was 1/2 a year ago... music blocks was a few months... I don't know. I just come to things as I get time and it makes sense. Why would I go to the Nether? Why would I know it exists? Well I have a plan for that, but its still a very long time away.
Anyways. I'm topical. To prove so here is Topical Black Sheep.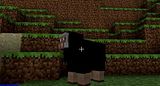 The real big thing last patch was beds and 1/2 blocks.... oh wish I had 1/2 blocks when I was making the roof on this house. Speaking of this house, I need a reason for it to exist. Not just to work on while I make the river. So the backyard isn't very amazing, see?
Kinda just a hill back there. No real pretty distinctions. My front view is nice, its a river delta. To the right of me is an ocean and some bearded trees. Behind me is BLEH. So I cleared it out.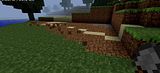 After the amount of dirt I've cleared in my Minecraft career, this was nothing. A feature I see in real backyards that I quite like is retaining walls. I don't want to flatten out this entire mountain, so I collect some flowers, I make some cobble stone, and voila: nice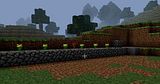 Nice but not quite enough. I started digging some ditches back there. I decided I didn't want mud in my ditches, so I put cobblestone all along the bottom of the ditches.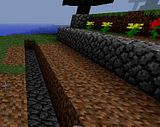 Waterproof cobblestone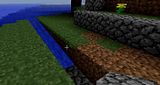 Ok. Ditches. 3 of them. Now what are they for? Ah ha! I've thought about that... waaaaay back at Tartarus Tower(the tower). While I was there I transplanted what looked to be really rare plants that The Bay only seemed to have about 3 of. I grew them at the Tower in anticipation of using them later. Now is the time.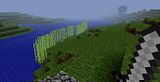 I trekked back down to the tower and I harvested the middles and tops of these reeds. Oh wait, I'm not topical enough... they aren't reeds anymore they are SUGAR CANE now. I grabbed the sugar cane and I planted them in the newly saturated and rich land I cleared in my back yard.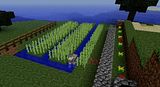 Now as you can see my river delta house near the bearded trees is a full fledges sugar farm. A sugar farm with a nice view.