Well since I had been away from this area for months, there were a few things I let slip. When I noticed these things I always said "I'll fix it later". Well, I guess its time for that "later" to be now. Here's a few of my fixes...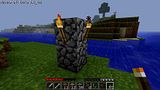 I put these up in trouble spots on my river so that I could traverse it at night in dire situations. Just some blocks of man-made cobblestone and some torches all around. It looks kind of medieval, which I guess fits with the Tower area.
I am trying to find new uses for the single stack fences that I experimented with at Sugarland. Here is one of those uses I've seen, legit lamp posts. I kind of wish I could use a smaller block, but I guess I'll have to just wait for better materials to show up.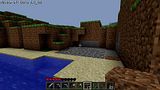 Once I had a nice gradual cove here. It was a nice and pretty cove that I enjoyed having here. Then a creeper caught me one morning and blew up that nice scenery. "I'll fix this later", and then I had a glitch that lost me lots of glass that I needed for something. I dug up the beach because... well its not like it was pretty anymore.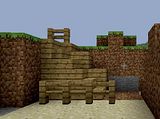 FANCY! Yeah, I'm playing around with some more carpentry, finding what works, what looks good, what is function. This is fairly functional, but I do find myself just jumping down it on return trips. Oh well, it looks nice.
I'm fallen down this thing like 3 times while not paying attention. Look at the picture, you can see the ladder up to Fort Lookout just next to it. I always thought I'd explore these areas, but eh.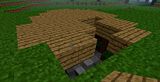 I'd rather feel like less an idiot, so I've boarded this one, and several other holes in the "backyard". Now its pretty safe to travel behind the Fort.
I harvested a good bit of materials during all of this. I realized that compared to Sugarland, the Fort was rather lacking in facilities.
Next time we'll fix that.