Season 4 Man vs River
Episode 6 : Break it!
I loathe temporary shelters. For a couple of days I have lived in this cramped little hovel. I sit there listening to pigs and cows make noises, probably pooping on my new home's foundation, and I wait, watching my clock.
So I'm not going back. I broke it down and now I have to finish the house enough today to use it as a shelter. I have to start by making a roof on the walls I finished last time. I have plans for a better roof, but for now I'm just going to box it off so I can work on finishing the structure.
After its boxed in, I now need to make a trip back to my other two homes for some building materials. I need glass from the Tower. I wanted the Tower to feel raw, so it never had windows, I will be happy to have windows again. From Fort Lookout I get some clay, I have some ideas on what I want to use clay on. I come back and I install my windows and my doors.
Now that's a ton better than living in a rock hovel.
I start going through my list of things I need. Storage areas, a place for a smelting oven, and a few niceties that I have not had in my Tower. I realize that my house is a little small for my list. I do not want to make a large house, I am reserving the Plantation for when I'm done with the river.
So I decide I'm going to have to make a cellar for storage. Nothing large, more like my old cellar in the tower, just large enough for 3 double-chests.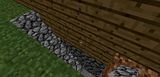 No surprises here because... I made a foundation! Yay, +1 for thinking ahead, right? I made it close to the house so that, again, I'm taking up very little real estate. Lastly I've decided to have a patio out of the back door. I ripped up the old wooden floor back there, and I put in some nice cobble stone.
Well, that's it for the main structure! One more house episode to go! I'll be making it pretty and adding some neat stuff on the inside! As always, comments are welcome and encourages me to continue blogging. Thanks for reading.