Season 4 Man vs River
Episode 7 Finishing Touches
I wanted the house to look nice, not just be functional. One of the problems with Minecraft is that it is hard to make non-blocky and decent looking building tops. I have a roof on the house already so I can stay there at night, but I still need to work on it.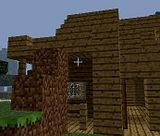 As you can see, to get a slightly steeper roof I use step blocks so that I can increase the angle of the slope with much less blocks. I get up there using dirt because using ladders just isn't so good when you're not wanting to harm the building you're working on.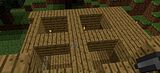 I wanted to open up the house a bit on the inside. Originally I figured on having just a 3x3 window in the middle of the roof, but I decided more of a + so that I could get more light in without it looking like just having a glass roof.

Next I took some of the rare clay that was in The Bay at Fort Lookout and I made some brick blocks to go beside my oven. The patio looked more like a grill out for a modern house now, and I really liked how it looked. I had barely fenced the area to complete the look when I suddenly got attacked by a spider. I ran into the house... but realized my roof was not secure, the spider ran in and jumped directly on top of me. The only safe thing to do was to run to the basement and wait till morning to head out and slay it.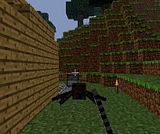 Soon as the spider was dead, I of course put the glass in the roof, it looks really nice in there now. I decided that my living room would be there. It looks a little empty, so I went to the Forums for some inspiration.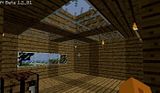 Next I decided to make some furniture. There is a post in the Minecraft forums about how to make furniture with items in game. So that's what I did. A step here, signs on the side, and I have a living room.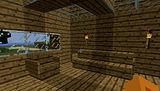 Still something was missing... I had gotten some wool in case I had room to have a nice rug, but with a basement, I can't do that now. So I double thick walled the wall on one side in front of my furniture, and made myself a big screen TV complete with TV stand.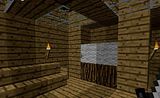 The inside is now cozy, the storage is all in place, and the crafting tables are set. A little clean up of the yard, some installation of a planter's box for some flowers outside the window and I'm all done with my new home for the next couple of weeks.