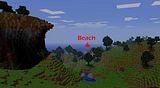 The beach where the river will eventually meet the ocean is pretty far from the tower. The progress of the river is getting to where it is becoming less time efficient to work on the river so far from a stable home. I've always hated making temporary homes. If you remember to when I started the river, I lived for a long while in a tree house. I still have that tree house up, I debated on burning it down, but it is a reminder to me not to build quick, crappy shelter because I might get stuck in it for a week or more.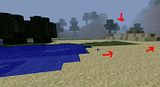 This is where the mouth of the River will be. The arrows show where the river will flow and eventually continue around the bin and toward the drowned quarry(that's what I'm calling that elbow that is mostly done in stone). To the left of the picture notice the trees and a sign.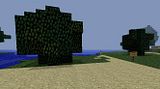 The sign says Bearded Trees. I came up here a few days ago because I'm always re-evaluating my river course. The new change in the tree code means that there are some more "tropical" trees near water, sometimes the leaves grow directly to the ground. I thought they looked bearded and they seemed a neat landmark.
This is where my new home would be. I wanted to see how it would look in the landscape. This will not be an end all be all house, more of a cabin rental. I do not want to make a huge house here, so I tried out an outline.
I like it. I think I can do something nice with the area here, and it will not dominate the landscape. Now, despite what I said before... I made a temporary shelter. But I did it for a reason, and it is not going to last very long. I wanted to find out where I was to put my porch.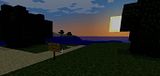 If you want to set it for a nice view of the sunset like this, you gotta be around at sunset. I'm feeling good about this home, I think I will enjoy it.